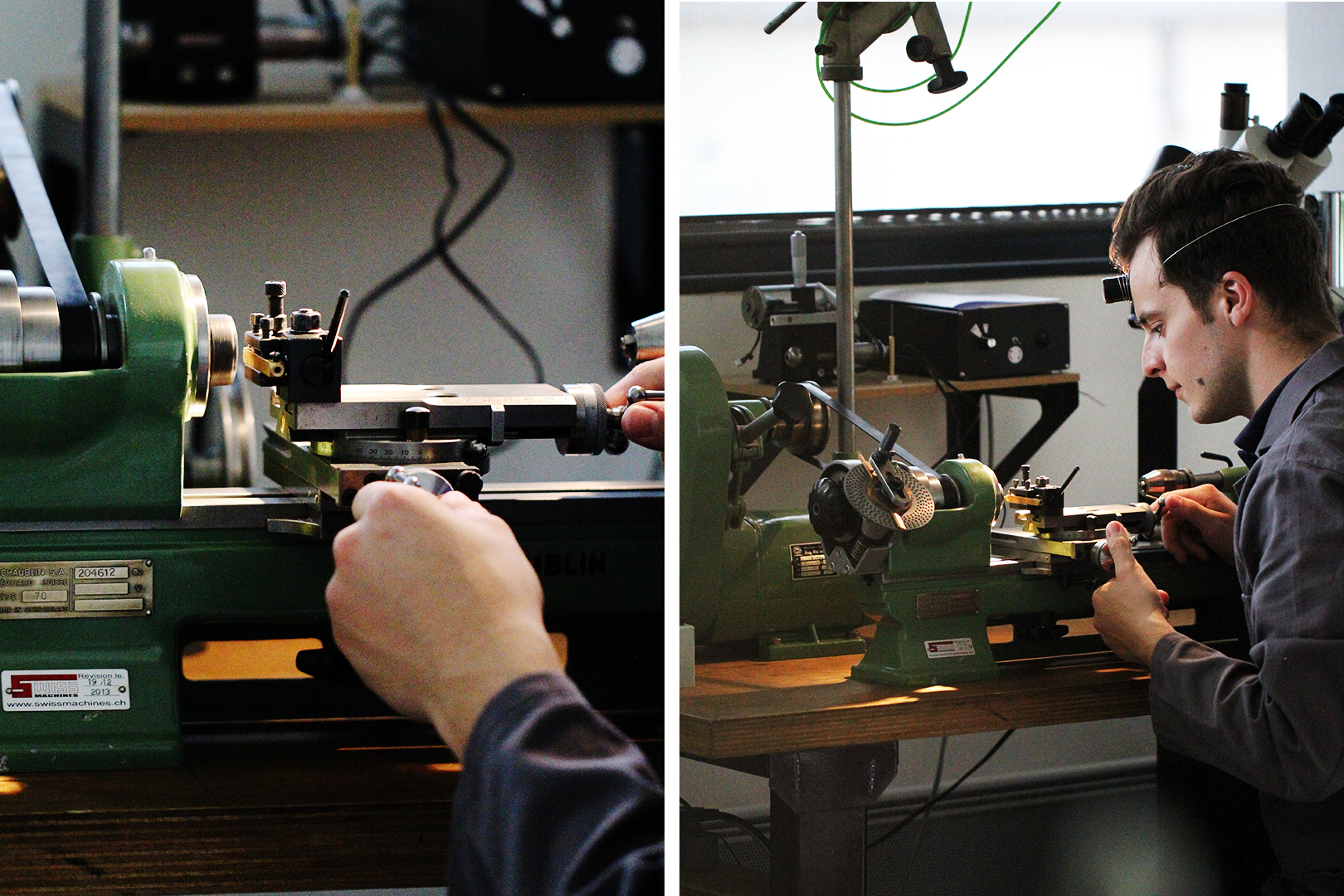 Uncategorized
A Visit to Young Upcoming Watchmaker – Remy Cools
By admin
At the age of just 21, Remy Cools, was the recipient of the highly coveted 'Young Talent Competition 2018' endorsed by F. P. Journe and The Hour Glass. The competition encourages young independent watchmakers to forge their own path. The journey of an independent watchmaker can be daunting, the road to success is rarely straightforward or guaranteed.
Remy Cool's Pendulette Tourbillon could have been mistaken for an industry veteran's work. The avant-garde Pendulette displayed a fusion of immense technical know-how complimented with an instantly recognizable design language. We first came across this Pendulette in 2018 at SIHH. Impressed by the object itself, we were taken back by the maturity and composure of the then 21-year-old. It was clear that Cools' had a path to chart, he dropped subtle hints of what would come next whilst still keeping his cards close to his chest. After a short stint at the Atelier Tradition at Greubel Forsey, Cools' was ready to set his sails and embark on his journey.
In 2019 Cools introduced his very first wristwatch none other than a Tourbillon Souscription limited to nine examples. The souscription practice was first thought to be introduced by Abraham-Louis Breguet and used by another notable fellow Frenchman, François-Paul Journe. The practice essentially requires a 50% down payment and the remaining 50% is to be paid upon delivery. The price of the watch is usually half that of the future intended retail price. A confident Cools announced that his Tourbillon Souscription would be sold for EUR 85.000. We are of the view that the price of such a watch reflects a fair proposition based on the tourbillon complication paired with the hand-made approach. Remy Cools possesses a trait that not many watchmaker/founders display, the tact to respect and honor a vision without indulging in any short-term satisfaction. Cools' firm stance on his first 9 pieces ensured stellar foundation for the future of his relatively young brand; as a result, not a single watch was sold with a discount and all 9 pieces will be identical apart from the hand-engraved serial number displayed on the dial.
As our train ride from Geneva to Annecy came to a halt, we were greeted by an incognito Cools on the platform. Much time had passed since we last saw each other. Cools' atelier is found a scenic 20-minute drive from the station, with a view overseeing the turquoise-blue waters of the Lake Annecy. Customarily the Frenchman creates his wristwatches in France; Cools, however, is of the opinion that being situated in Switzerland or France does not impair or hinder his ability to manufacture exquisite wristwatches. Upon entering his atelier, we were greeted by his security guard, Gaston, who stands 30cm tall. The structure of the atelier is well thought out, a total of three rooms are found inside the 70 square meter atelier. After having walked around the atelier, you sense that Cools possesses an old soul combined with integrity and respect for those who came before him. In his spare time, he is often found combing historically significant books whilst strategically planning his next creation.
Cools has gradually built his artillery of old-school watch-related machinery, some of his machines date back to two centuries ago. To our surprise, all the machines were in working condition and each of them served a purpose in the making of his souscription watch. The creator cherishes these fossil-like time capsules, with a subdued voice he mentioned that most of the manufacturers behind these machines went out of business since they built machines that were indestructible. Each machine comes with a unique story of its own and how Cools' managed to acquire it. For example, the raw hairspring in his collection must be completely regulated by hand in his atelier through the Spiromatic which dates back to 1960's. Another monstrous machine that caught our attention was the Hauser – Profile Projector. The Hauser can be compared to an old school projector prior. The machine works by placing an object onto the glass stage, the stage is then illuminated from below and the resulting image is picked up by the microscope objectives and projected to a large built-in projection screen. Since the component has under lighting, the fine microscopic details are eliminated and only the details of the contour and profile are seen. This allows his creative mind to compare it to his technical drawings and potentially adjust any imperfections.
An excited Cools walked us through the intricate improvements made on his Tourbillon Souscription, the entire movement was reworked down to the balance wheel. He calmly mentioned that he had successfully managed to gain 1mm in reworking the design – now 1mm might seem rather insignificant, in the world of horology 1mm is a huge deal! No stone was left unturned, if a certain component did not meet Cools' requirements, he would simply have the part redone. It's important to note that the inventor's ultimate goal is to have his entire production done in-house. Doing this presently would prove problematic from an economic and practical standpoint, but there will come a point in time whereby it would make sense. Cools does not hide this fact, for example, the raw brass wheels are cut in a CNC machine and delivered to the atelier. He also uses a lathe to individually cut each tooth into the wheel, there are 60 teeth found on this wheel. The final stage requires circular graining and anglage, it is estimated that each wheel takes anywhere from ten to fifteen hours to finish.
The previous 60-second tourbillon utilized a modified Swiss anchor escapement and the most recent update stems around the anchor itself. Cools tells us that he has modified its construction to improve the overall performance, it also represented an opportunity to showcase his meticulous hand finishing. Apart from keeping the anchor pallets in jewels, the rest has been entirely modified.
Few people are interested in the anchor, a beautiful anchor can instantly change that perception (everything)
Apart from mechanical improvements Cools' was also able to improve the overall legibility of his Souscription. For example, the sub-dial found at 12 o'clock indicates the hours and minutes through two Breguet styled hands. The hand-engraved Arabic numerals and dots for the five minute intervals are now filled in with black ink. The steel hands require a tremendous amount of patience and skill to manufacture. At first, the hands are given a black polish, thereafter the steel hand is then carefully placed on a tray of brass shreds and heated up with a flame.
Cools' natural eye then determines the right shade of blue and abruptly stops the process, overheating the hand can result in the hand being light blue and conversely not enough heat results in a purple color. Repeating this process twice (or eighteen times for the entire series) to have matching hands is an arduous task.
The global pandemic meant that few of his suppliers did not manage to meet their deadlines which impacted the production capabilities. Cools will simply not cut corners, even if it results in disappointing his first set of early backers with delays. With the utmost modesty he mentioned that the pandemic did allow him to get to the atelier in record time, he usually arrives there at 06:30 am and leaves late in the evening. Despite the exceptional circumstances, he is on course to deliver his first batch of watches this September, he aims to have them all delivered by end of 2022.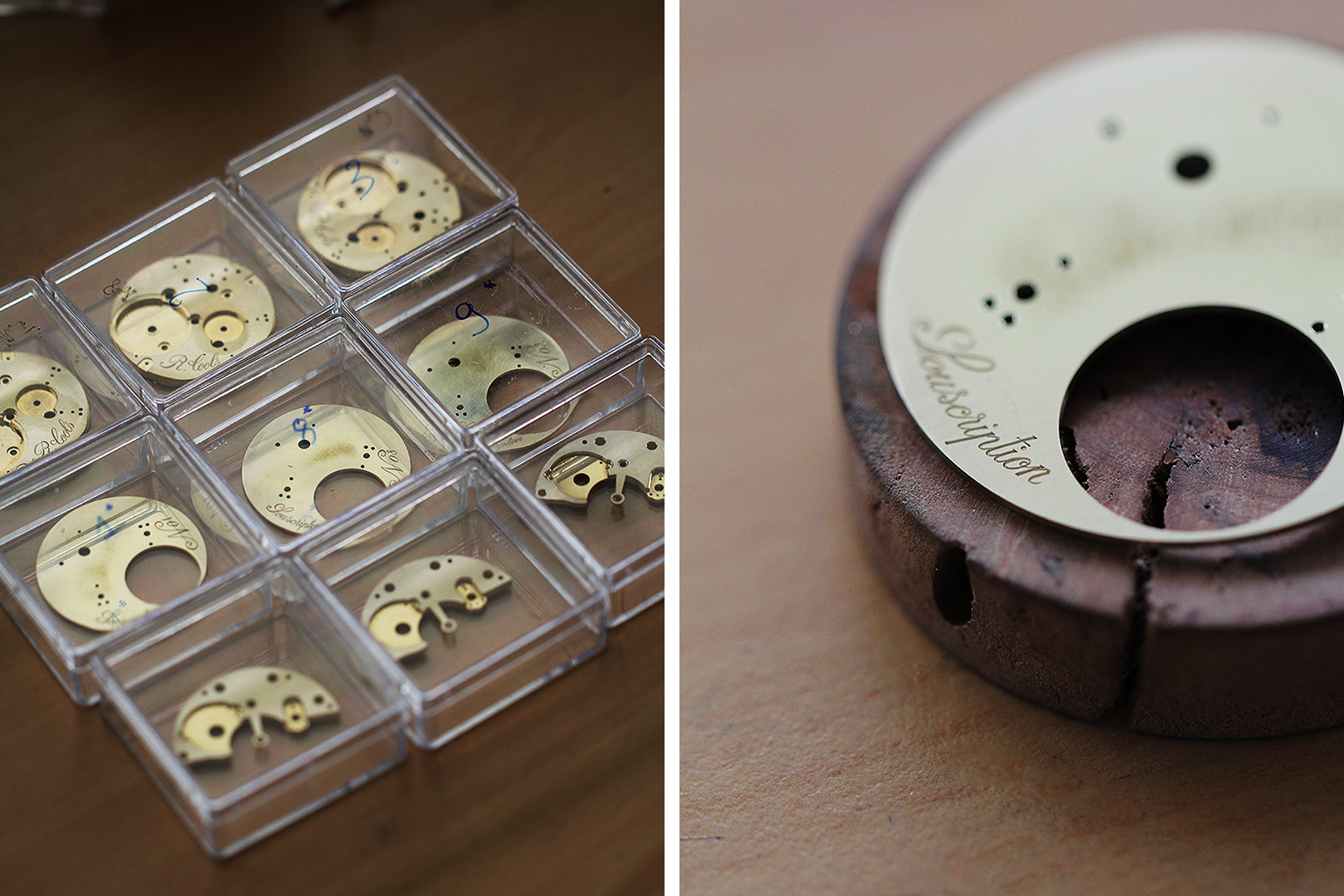 Every single watch is fully assembled by Cools, there is no form of assembly line as it currently remains a one-man operation. Determined and steadfast, he spoke about wanting to enhance his future production capabilities in order to expand his already impressive launch. When asked about the ideal production output of his brand Cools stated that he has several ideas in the pipeline. The ideal production that Cools aims for will be between fifteen and twenty watches a year. He also dropped a major hint that his production series Tourbillon would be completely different from the Souscription Tourbillon, whilst still maintaining the Cools DNA.
Apart from his Tourbillon, Cools has several exciting projects in the works for the near future.